Scotty Productions presents…
Joy Manor
Ages 21 and Up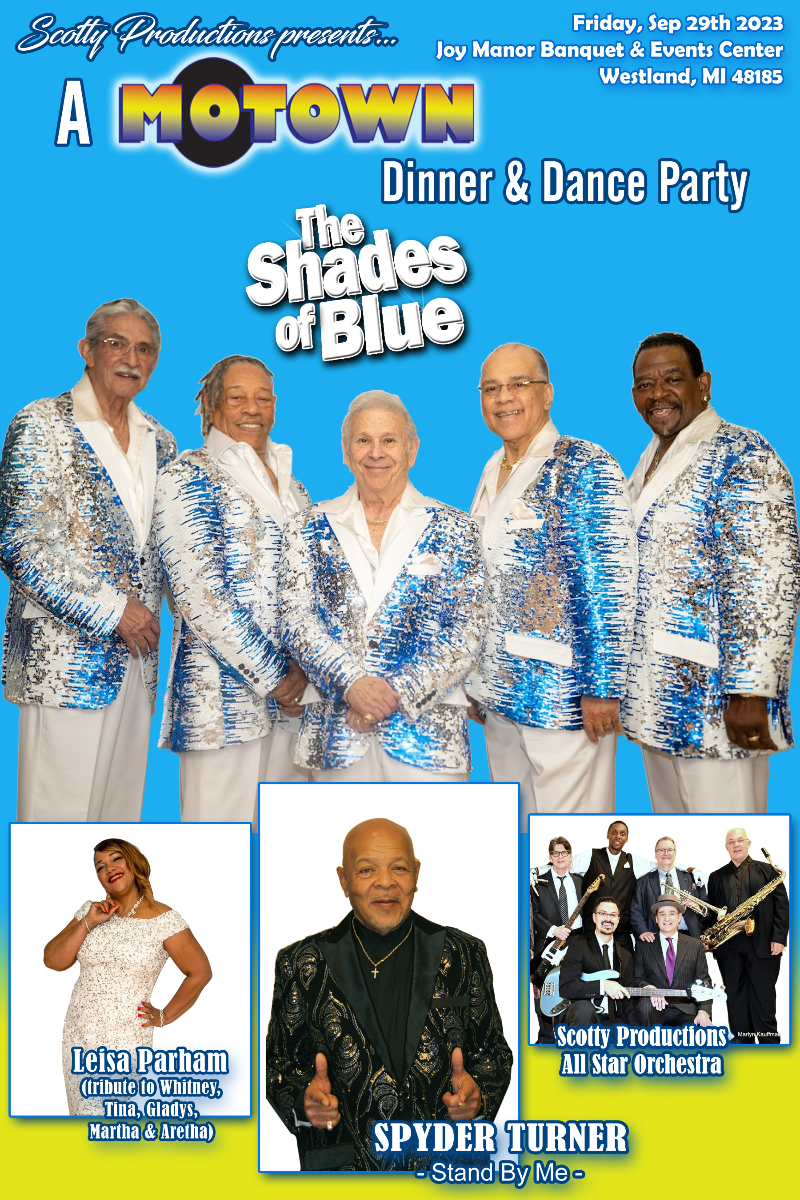 Additional Info
Dinner show is sold out. However you can still come for the band after 6:30pm
A Motown Dinner & Dance Party featuring
The Shades of Blue & Leisa
5pm - Doors open
6pm - Buffet dinner (broasted chicken, mostaccioli, vegetable blend, red skin potatoes, house salad, rolls)
7pm-9pm - show & dancing
Tickets go off sale on Monday September 25th at 6pm

The Shades of Blue
are one of the hottest and most successful groups to come out of Detroit. In 1966, they recorded one of the biggest selling hits in music history, "Oh How Happy"! in 2015, The Shades of Blue were inducted into the Rhythm & Blues Hall of Fame along with other legendary artists such as: Dennis Edwards Temptations Revue, The Four Tops, The Spinners and The Contours. In 2019, The Shades of Blue were presented with a Lifetime Achievement Award for the State of Michigan.
The Shades of Blue consist of four fantastic lead vocalists dressed to the nines, that will give you breathtaking harmonies, dazzling choreography and Vegas style showmanship. Buckle your seat belt for a non-stop, electrifying show filled with Motown, Soul & Rock N' Roll classics from the 50's, 60's and 70's!
First tenor/Lead
Stuart Avig
is one of the very first artists to ever record for Motown records going back to 1959. He was the lead singer of "Greetings, This Is Uncle Sam", A Motown classic which was later covered by Richard Street of The Temptations as well as Ronald Isley of The Isley Brothers.
Second tenor/lead
Donald ReVels
started singing in the early 50's with The Five Pearls. Donald performed at the legendary Apollo Theater amongst other venues for over 60 years.
Bass/Lead
Charles Davis
was a member of Motown Superstars, The Contours for over 30 years. He traveled and performed all over the world on the Dirty Dancing tour at the peak of the group's success.
Baritone/Lead
Carlos Valverde
has been with The Shades of Blue since 2007.
Opening the show will be the beautiful and multi-talented
Leisa Parham
. Born and raised in Detroit, Leisa has been performing all her life in church and on various stages throughout the country. Leisa has the vocal power, range and soul comparable to some of the notorious female vocalists in music history. Leisa will cover and pay homage to renowned Divas such as: Whitney, Aretha, Tina, Gladys and more.
The Shades of Blue and Leisa Parham will be backed by the Scotty Productions Orchestra! The orchestra is made up of 6 accomplished and brilliant musicians that have played behind notable celebrity artists such as: The Four Tops, The Temptations, The Miracles, Martha Reeves and many others.
TICKETS ARE NOW OFF SALE FOR DINNER & SHOW (Doors 5pm - 6:30pm)
If you are coming later for the band and dancing. Doors open at 6:30pm. You can buy your ticket at the door for $30.
Video
Artists