Unknown Hinson
with
The Token Lounge
Ages 18 and Up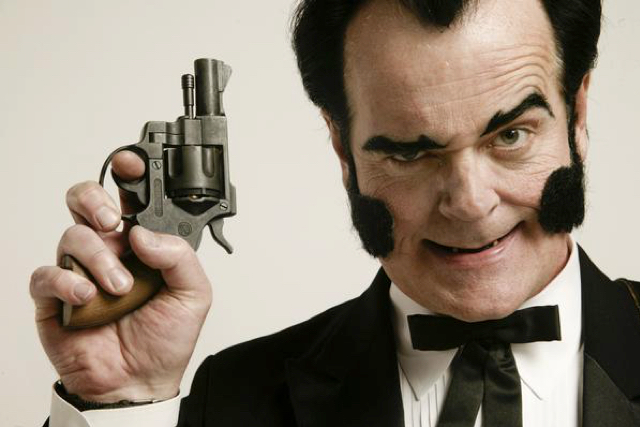 Additional Info
Online tickets are now off sale. You can buy them at the door.

Showtime:
08:30pm - Uknown Hinson
Doors open at 7pm
18+ w/proper ID & All Ages w/parent
Plenty of Free Parking & Outdoor Smoking Patio
No Outside Beverages / Ni Re-Entry / No Backpacks

The UNtold Story of Unknown
While singing his own hilariously politically incorrect songs, Unknown Hinson plays guitar in a style incendiary enough to have Satan himself reaching for the antiperspirant. But don't dismiss him as a novelty act. He's one hell of a talent and has the music to prove it!
Looking somewhat like Dracula's nasty little brother who spent some hard years drinking and working as a carnival barker for a second-rate freak show, Unknown Hinson translates that vibe to his style of country and western-tinged psychobilly. The band is now touring nationwide, wowing audiences with outrageous and campy, white-trash persona and freewheeling, sleazy tone.
Hinson's most recent CD release, "Live and Undead", melds weepy twang, searing guitar riffs and lyrics that speak of love-gone-bad. Recorded at a sold-out show, an enthusiastic honky tonk crowd sings along with the King on every song. Raucous, theatrical and over-the-top, Unknown Hinson isn't just for the trailer park set anymore!
Unknown is gaining international notoriety in the 14-34 demographic as the voice of lead character "Early Cuyler" in the popular show from Cartoon Network - "Squidbillies". The first four seasons were so well-received that an immediate green light was given to future seasons. Check website for dates and time slots.
http://www.adultswim.com/shows/squidbillies/
Unknown Hinson is an international winner in the Independent Music Awards for his alternative Country track "Torture Town" from the album "Target Practice".
http://www.musiciansatlas.com
Unknown Hinson is also a featured artist for Reverend Guitars, representing them in many issues of Guitar Player magazine. A signature Unknown Hinson guitar is currently part of Reverend's celebrity instrument lineup. Full page interviews and photos of Unknown are in March and April 2012 issues of Guitar Player, and on guitarplayer.com www.reverendguitars.com
Upon his first performance at Rockabilly Revival, an annual festival in Austin, Tx, Rockabilly Magazine named Unknown Hinson as their "Find of the Year" www.rockabillymagazine.com
Check out YouTube for thousands of videos from various sources featuring the King of Country Western Troubadours.www.youtube.com/unknownhinson
Live interviews with Unknown Hinson along with his music are broadcast nationally on XM Radio's National Lampoon channel. (XM 154 along with FM radio partners). http://www.nationallampoonradio.com/
Sirius XM - Outlaw Radio has Hinson's tunes in regular rotation. The Bob and Tom show (Indianapolis/Chicago), the Regular Guys (Atlanta), along with Los Angeles' KIIS
Video
Artists
Unknown Hinson
400 year old hillbilly vampire playing magical searing guitar riffs and funny as hell lyrics. Tight as a tick band with perfect pitch.

Unknown Hinson is the voice of Early Cuyler on Squidbillies, Cartoon Network show.